An architect or a geodesist – who would reflect a building better?
To begin with, it's good to say what exactly architectural/building/architectural-building inventories are and what they consist of. To give you a mental image, paper (digital) documentation of an existing building or its parts needs to be done the way the documentation (floor plan) for a building permit is created. Check what kind of documents and what drawings a well and professionally done inventory should have, and who should be making it.
What is a building inventory?
It needs to be said that an architectural inventory is generally useful at the last stage of filing an application for a building permit or a building addition permit, so said inventory should reflect the floor plan present in the permit. Following this train of thought, we should base on the ordinance of the Minister of Transport, Construction and Maritime Economy of April 25th 2012 on the detailed range and form of a building project. Said ordinance mentions a list of norms it refers to on its last page. Five of nine mentioned norms speak about a construction drawing (building symbols, building names or its parts, numeration, ways of measuring, graphic symbols on the architectural-building drawings, rules of measurement). In those norms the terms "construction drawing" (so a reflection of the actual state would be an architectural inventory) and "architectural-construction drawing" (so a reflection would be an architectural-building inventory) are used interchangeably. When we analyse the request for proposals from architects, investors, managers, housing cooperatives or ZGN's the terms are used either interchangeably or differently.
Architectural inventory
What do you need to know about it?
No term definitions
When we try to find the terms "architectural inventory", "building inventory" or "architectural-building inventory" in Polish Acts and ordinances, we won't find the definition of them anywhere. For this reason it's crucial to precisely specify when making a request for proposal, or during the negotiations, what exactly should be included in the area measurements and later when transferring the measurements to a graphics software, such as CAD. How large can the differences be? Let's use a real life situation I've encountered several times as an example. When making an architectural inventory, the client requested for all the wiring (in the floors, ceilings and walls), the sockets and the descriptions of construction materials to be present on the drawings. The price difference between the "basic" architectural inventory (load bearing and regular walls, windows, passageways and rooms dimensioning, height measurements, balcony measurements) and an inventory with an addition of all wiring measurements and sockets is a few times difference for 1m2 of measuring
What should an architectural inventory include?
When making an architectural inventory it's generally best to choose from the following:
Architectural measurements – actual measurements (representation) of walls, columns, doors, heights, balconies along with the basic dimensioning.
Area measurements – calculating the area according to the PN-ISO 9836:1997 norm, since we calculate the area of the project in the building permit according to said norm; The dimensioning should be included in the measurements of all floor plans, on all storeys – both the underground and ground level ones. The inventory is usually done using a 1:50 or 1:100 scale of measurement.
Cross-sections of a building – the number of cross-sections depends on the type and complexity level of a building. Cross-sections of all levels should be made.
Elevation measurements – can be a measurement of an elevation on one wall or the whole building, or creating the elevation in software such as CAD. Each wall alone or the elevation can be a plane of projection, that means we show all the walls of a building at the same time.
Networks inventory – electrical sockets, water and gas supply network. It can be a network location measurement alone, but we can also include a description and photographic documentation.
Roof measurements – measuring all roof elements, including technical equipment such as air conditioning or antennas, but also all walls. Roof measurements can be applied to the heights of the national geodetic coordinate system or the zero of the building (in such case we know the height of the building relative to the elevation before the entrance).
Site plan – means marking the location of a building in relation to the lot borders, includes land management, for example pavements or plants.
Technical specifications – optionally. As a part of an architectural inventory, it should include the location, type and purpose of the building, number of levels, building height, area and other elements depending on the building.
Photographic documentation – optionally.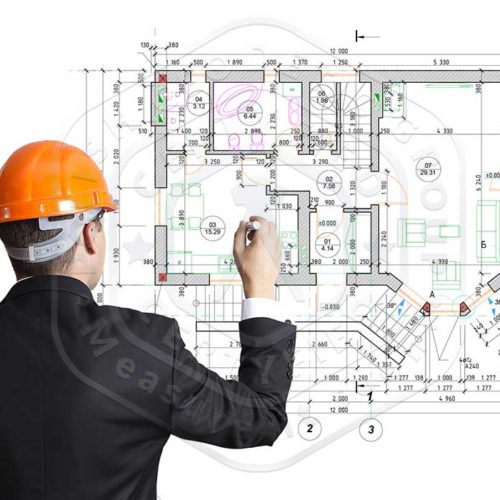 When is an architectural/building inventory needed?
In case of a renovation or rebuilding – adding or removing parts of the object
In case of a change in the floor plan
In order to arrange the inside of a building – both the interior design and a change in network placement
In case of a historic building demolition
Who should prepare a building inventory?
Generally, as the name suggests, you should direct an architectural inventory to an architect. How does it work in practice? In practice, architects usually hire geodesists to make such inventories anyway. It comes from the fact that architectural companies usually don't have measuring equipment at their disposal – tachometers, scanners, levels. Geodetic companies have this kind of equipment. The receivers of architectural inventories usually are architects, and it's them who ultimately works with the inventory. That's why such inventories are usually signed by architects. Because of that both sides can make such inventories, and both sides actually cooperate in that field. A geodesist's measurements will be far more accurate than an architect's.
Architect or surveyor?
Who would reflect a building better?
Copying the article or its parts without the author's permission is forbidden.
Author: Adrian Hołub
Translation: Julia Pająk
Contact
Polish Geodetic Group
Efemeryda Adrian Hołub
Mikołajczyka 21/136 Street, 03-984 Warsaw
Malinowa 16 Street, 02-495 Warsaw (under construction)
www.geodetic.co
www.academy.geodetic.co
www.services.geodetic.co
www.realestate.geodetic.co
www.resources.geodetic.co
www.geodezyjny.com

Adrian Hołub
Co-owner Polish Geodetic Group
Polish language
tel. +48 608-577-042